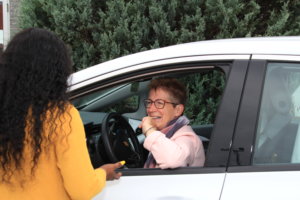 Chateauguay, September 25th, 2019 – Incumbent Member of Parliament Brenda Shanahan is pleased to report that a re-elected Liberal government is committed to reducing family taxes by an average of $ 600, filling the gaps in the health care system and making medications more affordable.
"Even with our strong economy and record unemployment, citizens are telling me it is still tough to make ends meet because taxes, fees, and bills pile up while wages are not keeping up. That's what our announcement is all about — being there for families when they need it most," says the candidate for Châteauguay-Lacolle.
Under the Liberal plan, middle class Canadians will pay no federal taxes on the first $15,000 they earn — saving the average family $600 in taxes each year. This means that about 700,000 more persons, including seniors and young people, will pay no federal tax at all and that 40,000 disadvantaged persons will be lifted out of poverty.
"While Andrew Scheer's tax plan would give a bigger break to wealthier Canadians, our plan lowers taxes the most for people who make less. Our new tax cut would also help lift twice as many Canadians out of poverty. The Conservatives spent a decade cutting taxes for corporations and millionaires and they want to continue in this direction," states Brenda Shanahan.
Progress in healt
The Liberal Party of Canada proposes to once again increase investments in health to ensure that everyone has access to the care they need. "A re-elected Liberal government will work with the provinces to reach new agreements that will improve the health care system", she explains
The Liberal plan will ensure that every Canadian can easily find a family doctor or primary care team and set clear standards for access to mental health services. Finally, it will continue to make home care and palliative care more available
Less expensive medication
In recent years, the Trudeau government has undertaken the most comprehensive overhaul of drug pricing in three decades. "We have taken the first steps to building a national pharmacare system that will come into force in the next mandate", she points out.
The Liberals will also establish the Canada Drug Agency and implement a national formulary with partners to set drug prices. At the same time, they will bring down the cost of lifesaving high-cost drugs through the Rare Disease Drug Strategy — a policy brought forward earlier this year
"Andrew Scheer's wants to follow the lead of Doug Ford in Ontario, who drastically cut in health services. We, on the other hand, will work hard at the negotiating table with the provinces to improve access and quality of care," she concludes.