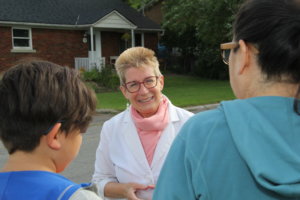 Chateauguay, September 19th, 2019 – Châteauguay-Lacolle incumbent Member of Parliament, Brenda Shanahan, is pleased to announce that a re-elected Liberal government will put more money in the pockets of families and seniors.
"The financial insecurity of families and seniors is the main concern I hear when I'm going door to door or making phone calls. Parents want to spend more time with their children and not having to worry about being able to make ends meet and seniors worry about the rising costs of health care and drugs," says the Liberal candidate.
This is why a re-elected Liberal government will give up to $1,000 more annually to middle-class families by boosting the Canada Child Benefit by 15 % for children under the age of one. "This will help parents when they work less hours and the costs of raising children are highest," points out Brenda Shanahan.
The Liberal Party of Canada also propose to make maternity and parental benefits tax-free. Furthermore, during the first year of a new mandate, it will work on establishing a Guaranteed Paid Family leave. "We will make sure that parents who do not qualify for paid leave through Employment Insurance – or don't get enough – are able to afford to spend the first year at home with their child" she explains.
Regarding low-income seniors, Team Trudeau is committed to put up to $729 more in the pockets of seniors each year by increasing Old Age Security by 10 % once they turn 75. Seniors who have lost their spouse will also receive up to $2,080 every year in additional benefits by increasing the Quebec Pension Plan survivor's benefit by 25 %.
"These meaningful actions that will provide an additional boost to families and seniors will be established in partnership with provinces to further strengthen the financial aids they rely on every day," says Brenda who is a social worker by training.
A plan that works
Over the last four years, the Liberal government made families' lives easier and more affordable by providing more parental leaves and creating the Canada Child Benefit, which helped lift 300,000 children out of poverty. "Conservatives pretend they are for the people, but on the first opportunity, they cut taxes for the wealthiest and cut the help families rely on. Our kids deserve the best possible start in life – and that's exactly what this announcement is all about," she states.
The Trudeau government has also enhanced seniors' benefits and restored retirement age to 65, thus helping 50,000 seniors to move beyond the poverty line. "The previous government pushed back retirement age to 67 and then Andrew Scheer voted against restoring it to 65. For our part, we are determined to help seniors have a safe and dignified retirement," she mentions.